You probably think that the best wheat beer, in German "Hefeweizen", is made in Bavaria. No, not Bavaria is home to the world's best wheat beer, but SouthWest Germany! The brewery Hoepfner from Karlsruhe is the winner of the category "Wheat Beer" at the "World Beer Award 2016" in London.

World's best wheat beer comes from Hoepfner in Karlsruhe
Willy Schmidt, CEO of the Hoepfner brewery, and Michael Huschens, master brewer, were delighted to achieve not only the title as Germany's best "Hefeweizen", but even the title as the worldbest wheat beer. Not good enough, the brewery from Karlsruhe has also won a gold medal for its Hoepfner Pils.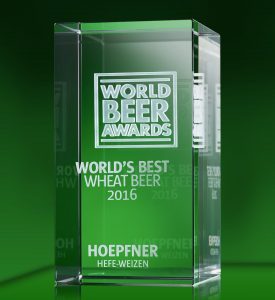 Master brewer Michael Huschens says: "We have highest demands of quality and taste. The fact that our Hoepfner beers not only meet the internationally approved standards, but even brings us to the top, makes us very proud and encourages us."
The World Beer Award Jury describes the Hefeweizen as  "soft, velvety texture, hazy gold colour with a thin head. Spices, like cumin seed over banana bread. Big mouthfeel and a spicy finish". The "World Beer Award" in London is one of the hardest beer competitions of the world. Both large national and international breweries, but also local and regional breweries take part.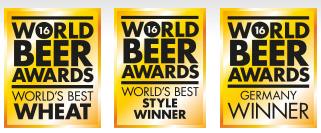 Hoepfner Brewery in Karlsruhe with tradition and innovation
Hoepfner is a brewery full of tradition: Founded in 1789, it belongs to the oldest, still active companies in Karlsruhe. The beer is brewed and bottled in the "Hoepfner Castle", which was build in 1896 in Karlsruhe Oststadt.  "Fresh wind behind ancient walls" shows the will to combine tradition with new ideas. Hoepfner is one of the two large breweries in Karlsruhe. Currently, the assortment includes 17 very different sorts of beer. Next to the traditional, main beer, Pils and Export, the brewery offers among other its Hefeweizen and the popular beer mix "Grape". Hoepfner is one of the most awarded breweries in Germany.