Endless choices for what to do in 2017 in Baden-Württemberg
In Baden-Württemberg, the choices for what to do and where to go are endless: Sophisticated cities offer have world-class art, opera, ballet and Michelin-starred restaurants. The Great Outdoors just doesn't get any better than the unspoiled Black Forest and sparkling Lake Constance. Also, Baden-Württemberg has award-winning vineyards and the best car museums in the world: Did you know that Mr. Benz invented the automobile here?
1. Mannheim: 200th birthday of the bike
This year, Baden-Württemberg celebrates a big anniversary! Karl Drais came up with the idea of the bicycle 200 years ago. Then, Karl Drais cycled for the first time ever the Danube path from the river's source in Donaueschingen to Ulm. In the early summer it's a great time to celebrate this great invention: Cycle through asparagus fields on the Neckar Valley Cycle Trail from Mannheim to Villingen-Schwenningen, eating fresh asparagus along the way! In autumn, the Tauber Valley Cycling Path includes vineyards, Bad Mergentheim's half-timbered houses and Bronnbach's 12thC monastery, where you can actually stay overnight.
2. Pforzheim: A jewel of a destination
In Pforzheim, which is in the Northwest of Baden-Württemberg, people have been making jewelry and watches for 250 years. At Schmuckwelten, World of Jewelry, Europe's largest jewelry and watch house, they even produce works of art before your eyes: You can select the stones, choose the design and watch the craftsmen at work. Fitting for his nickname of the City of Gold, Pforzheim even has a wall built of gold bricks as well as a gold-plated Porsche! So, you shouldn't miss the Jewelry Museum (Schmuckmuseum) with 5,000 years of stunning treasures from around the world.
3. Bringing the past to life: 30th Birthday of the Staatliche Schlösser and Gärten Heritage Agency
This year, the Staatliche Schlösser und Gärten heritage agency celebrates its 30th birthday: It manages an astonishing number of castles, monasteries, palaces and gardens. The agency doesn't preserve them – it brings them to life with costumed actors who recreate the life from the old times. For example in Maulbronn (UNESCO World Heritage Site), you can eat medieval dishes, learn how monks created special food for Lent (yes, they did cheat a bit) and taste local wines.
4. Europa-Park: see Europe in a day
Europa-Park has been voted the "Best Theme Park Worldwide" for three years in a row. It provides thrills galore in 14 areas themed on European countries from Switzerland and Spain to Greece to and Scandinavia. Not to forget the Enchanted Forest of Grimm's Fairy Tales and Arthur and the Invisibles, plus five luxurious on-site themed hotels guaranteeing year-long fun. The newest highlight in 2017 in Europa-Park is Project V: take off on a breath-taking, magical flight in Europe's largest 'Flying Theater'.
5. Starry, starry plates: Germany's foodie capital
Baden-Württemberg is definitely the food capital of Germany: No other region, and not many other regions in Europe, can beat SouthWest Germany's galaxy of 75 restaurants with Michelin stars. Additional, there are 146 restaurants with a Bib Gourmand, these are places with a good price-quality ratio. The village Baiersbronn for example has EIGHT stars: Two 3* and one 2* restaurant. However, there are also numerous taverns and inns that serve hearty traditional and affordable dishes, you should definitely try: Maultaschen (similiar to ravioli), Spätzle (delicate egg noodles), Zwiebelrostbraten (rib-eye steak with crispy onions) and Black Forest Cake (cake with chocolate, cream and cherries)!
6. Wine & bed: wonderful wine hotels
Here in Baden-Württemberg, we are Germany's sunniest region! Therefore, the grapes flourish greatly here, and have done since grow great grapes Roman times. Well, we'd like to share our award-winning wines with you this year. In Baden-Württemberg we have a numerous wine festivals and 49 approved "Wine Hotels". Relax, enjoy, find out what's good and what's local!
7. Lake Constance: the German Riviera
There is no lake in Europe as beautiful as Lake Constance, which we share with our neighbours in Austria and Switzerland: sapphire blue water, views of snow-tipped mountains and orchards, medieval castles and cute villages. Swim, sail and relax in the sun! Visit Mainau Island, internationally known for its flower-filled gardens. Cycle the car-free bike trail, eat fish, fresh from the clean waters of the lake, ride the little ferries or fly high in the sky in a Zeppelin airship. A MUST at the Lake Constance: The reconstructed prehistoric Lake Dwellings in Unteruhldingen: a real window on the past.
8. Stuttgart: for a capital time
Come and visit the capital of Baden-Württemberg! See historic buildings and great art galleries, go quality shopping and visit hands-on museums, like the state-of-the-art Mercedes-Benz and Porsche Museums. Enjoy great restaurants, endless pedestrian streets, green parks and comfy hotels. Stroll around the Wilhelmina Zoo with its Botanical Gardens and end the day at the oh-so traditional Stäffele, a typical local pub, with hearty food and good beer.
9. Heidelberg: isn't it romantic?
A couple of hundred years ago, a bunch of poets and philosophers fell in love with ruined castles and started the Romantic Movement. And no ruins are more romantic than the castle that overlooks Heidelberg. Straddling the Neckar River, this is home to Germany's oldest university (1386), guaranteeing a student buzz year-round. But the cobbled streets and Renaissance houses in the atmospheric Old Town could not be prettier. Take the cable car up to the Königstuhl for the view, see the world's biggest wine barrel in the palatial castle and walk round the English gardens!
10. Scroosin' round Karlsruhe
The invention of the scrooser guarantees the greatest fun: This two-wheeled, battery-powered electric scooter is taking Europe by storm. Also, Baden-Württemberg got infected. However, Karlsruhe is the first city in the world that introduces Scrooser city tours! The fat tyres and comfy seat make the Scrooser easy to steer and to control. You push it off with your foot and as soon as you reach 2 mph, the electric motor kicks in. The top speed is 15 mph, which makes the Scrooser perfect for exploring Karlsruhe.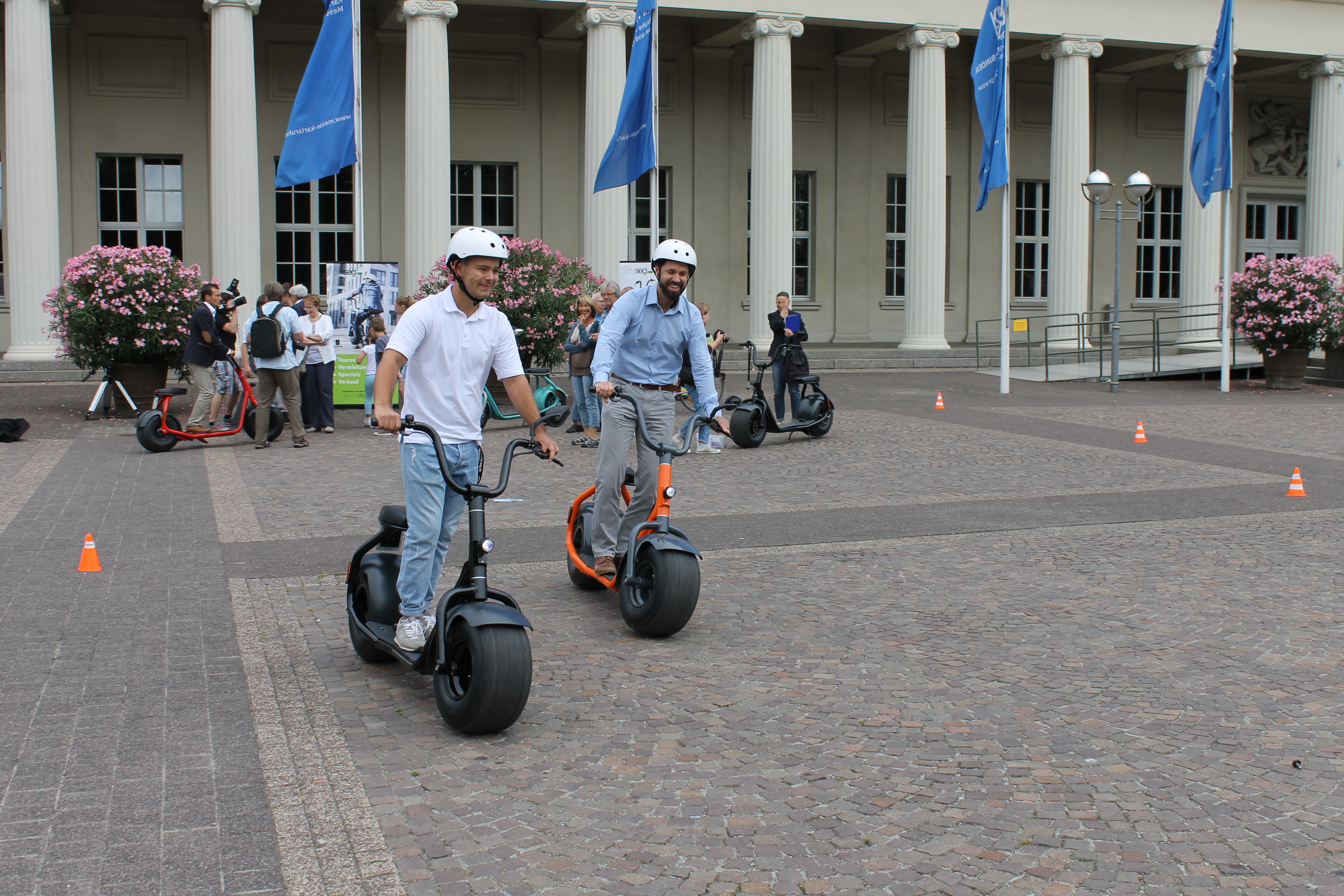 Source: Tourismus Marketing GmbH Baden-Württemberg
Images: Title image (Schwäbische Alb) © Tourismus Marketing GmbH Baden-Württemberg; Bicycling in vineyard © Tourismus Marketing GmbH Baden-Württemberg;  Schmuckwelten © SCHMUCKWELTEN Pforzheim; Europa-Park © Europa-Park; Lake Constance © Mainau GmbH; Scroosin' round Karlsruhe ©KTG Karlsruhe Tourismus GmbH