The Feast of the Senses in Karlsruhe is the perfect start to spring!
Deutsche Version dieses Artikels
Also this year Karlsruhe shows itself with the FEAST OF THE SENSES from its colorful side. Therefore, the city invites to a real pleasure trip: Feasting, enjoying, strolling and shopping, when the city center turns into a colorful spring landscape during the weekend.
The city center of Karlsruhe has a lot to offer at this weekend: On the Friedrichsplatz there is program around the topic "pleasure", such as the social media cooking show, at the Kirchplatz St. Stephan you find delicious things on the chocolate market and on the Stephanplatz there is the "Stoffmarkt Holland" (fabric market Holland) and a flea market..
Pleasure on the Fried¬richs¬platz Karlsruhe
On the Friedrichsplatz everything revolves all around the theme "pleasure". On the pleasure market on Saturday and Sunday from 11 am to 8 pm, gourmets and lovers of regional cuisine will get their money's worth. Specialists from the regions of Baden and Württemberg, Palatinate and Alsace invite you to enjoy in Karlsruhe. The musical background of the "Pleasure Journey" over Friedrichsplatz provides the live music on stage at the Friedrichsplatz, presented by RPR1.
Social Media Cooking Show on Friedrichsplatz Karlsruhe
A further highlight on the stage at Friedrichsplatz Karlsruhe is on Saturday at 3 pm a "Social Media cooking show" with the support of RPR1 and the PLANA Küchenland. In addition, the Karlsruhe mascots take over the stage on Sunday at 3 pm and deliver an exciting dance battle. And also the little connoisseurs can enjoy a lot on Friedrichsplatz. The "slow-mobile" of the Junior-Slow Karlsruhe e.V. and a multitude of different playstations for children, where the creativity has no limits, offer amusing pastime for the youngest.
Karlsruhe Kirchplatz St. Stephan – Chocolate Market
On the square at the St. Stephanskirche Karlsruhe, a tempting international chocolate market with 15 stands opens its gates for two days, from 11 am to 8 pm. Chocolates, Belgian chocolates, French nougat, Italian chocolate specialties or sweet fruits from the chocolate fountain: sweet-chees and "chocolate" get their money worth.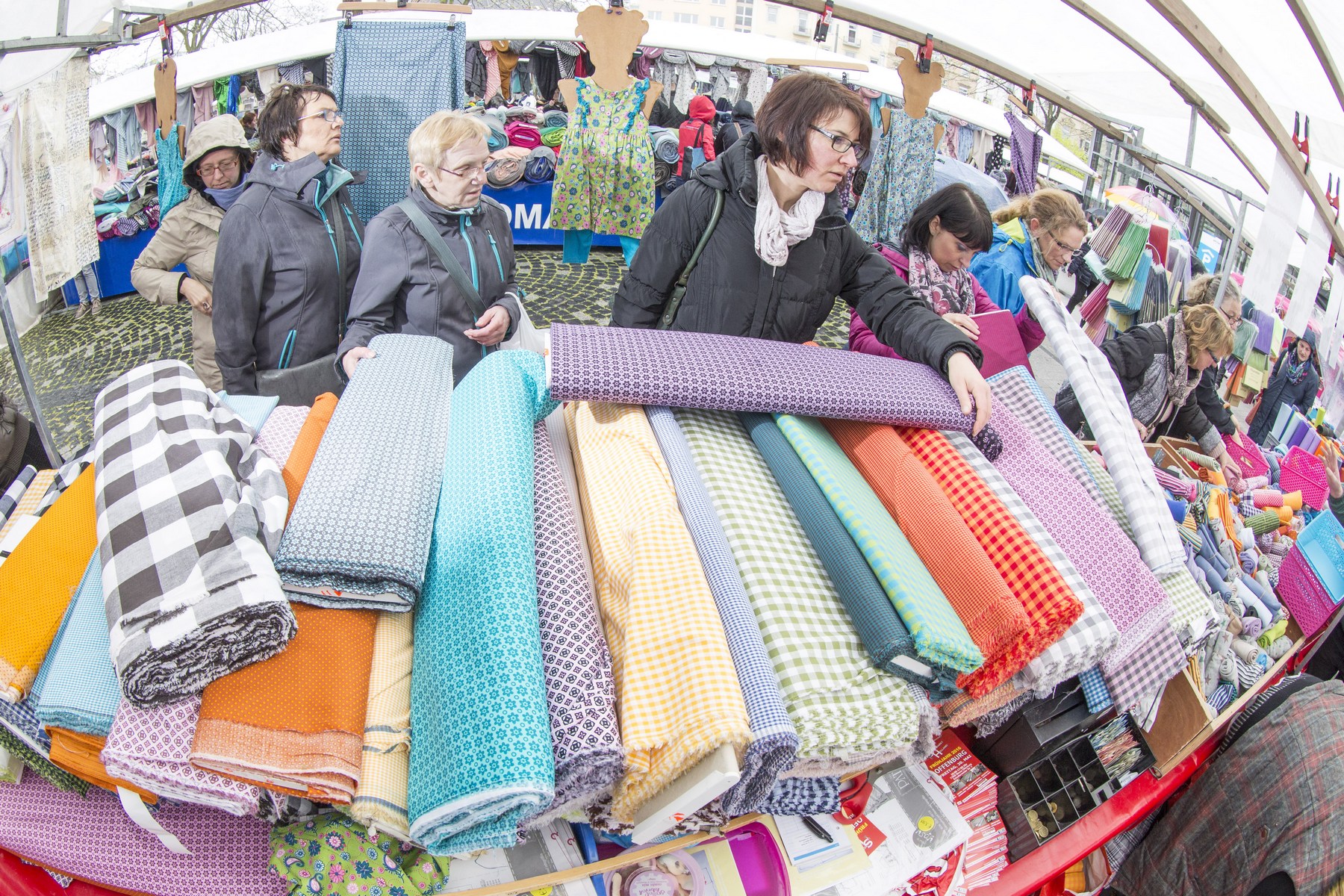 Karlsruhe Stephanplatz – Fabric Market Holland & Flea Market
A true feast for the eyes on Saturday is the Stoffmarkt (fabric market) Holland, which offers visitors and visitors a true color sea of fabrics. At more than 140 stands, you find the latest fabrics, haberdashery and everything for self-stitching. Bargain hunters and collectors can sleep comfortably on Sunday and nevertheless punctually visit one of the most beautiful flea markets in Karlsruhe. On open Sunday, the market opens its stands from 1 pm to 6 pm on the Stephansplatz.
Shopping Sunday in Karlsruhe
The Sunday the shops in the city center Karlsruhe and in Durlach are opened from 1 pm, you can come for leisurely strolling, enjoying and shopping. The inner city and Durlach offer the complete shopping experience.
Source: Karlsruhe Stadtmarketing
Website: https://www.karlsruhe.de/b1/stadtmarketing/veranstaltungen/festdersinne.de
Images: © Stadtmarketing Karlsruhe GmbH